ICANN News
Please make the Cache directory writable.
Industry Expos and Events - Domainer's Magazine
Legal News. For a headline-only list of these articles, click here.
Written by AfternicDLS
Tuesday, 13 April 2010 15:43
AfternicDLS, the leading marketplace in the domain industry, is prepared to share innovative and effective methods to increase the sales velocity and price of your domain names. By listing domain sales opportunities with the AfternicDLS Premium Promotion program, domain sellers expand their audience of prospective buyers immensely.
Join AfternicDLS for a brief webinar followed by a longer question and answer session on April 29th at 2 PM EST.
This webinar will explain how Premium Promotion provides:
The industry's widest distribution network, including Register.com, Network Solutions, and over a dozen more partners
Access to a dedicated sales force that will act as your domain consultant
The ability to reach end-users resulting in the industry's highest sales velocity and average sales price
Space is limited; click here to register now!
Written by InterNetX
Thursday, 18 March 2010 21:27
As considerable security concerns have been triggered by terrorist threats against the Kenyatta Conference Centre in Nairobi, the German Internet Service Provider InterNetX has decided not to attend the ICANN meeting in Nairobi, Kenya.
(REGENSBURG – NAIROBI, March 2010) – InterNetX GmbH, Silver Sponsor at the 37th public ICANN meeting, has withdrawn its participation at the conference. The reason: The venue for the event, the Kenyatta International Conference Centre in Nairobi, could be the target of a terrorist suicide bombing. According to the US State Department, there are indications that a terrorist cell in Somalia, linked to Al Qaeda, is planning attacks on the US Embassy in Nairobi as well as on Kenya's largest conference center, where the ICANN meeting is taking place. In the run-up to the conference, the event organizer ICANN also warned of the possible dangers.
Last Updated on Thursday, 25 March 2010 19:22
Read more... [InterNetX calls off participation at 37th public ICANN meeting in Nairobi]
Written by Domainers Magazine Staff
Tuesday, 12 January 2010 14:53
Join Afternic and SmartName for a Webinar on February 4
Space is limited.
Click here to reserve your Webinar seat now!
Join the first webinar of 2010, "Enhance Your Domain Parking and Selling."
You probably are already aware you can monetize your domain names by parking them.
The first step is determining what strategy best fits your portfolio needs. During the webinar, we will be reviewing a variety of different monetization and selling solutions that best fit your individual domain portfolio strategy.
Last Updated on Thursday, 25 March 2010 19:42
Read more... [Discover the Top Domain Parking and Selling Strategies for 2010]
Written by Domainer's Magazine Staff
Friday, 31 July 2009 16:59
SMX East conference offers exceptional and actionable content; more than 50 Sessions on a variety of internet and search marketing topics for all skill levels
Redding, CT (PRWEB) July 30, 2009 -- The agenda for Search Marketing Expo - SMX East is now posted. SMX East will be held in New York City October 5-7, 2009.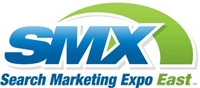 SMX East features more than 50 sessions and keynotes on a variety of internet marketing topics for individuals all skill levels. View the agenda at http://searchmarketingexpo.com/east/2009/agenda
Topics include paid search advertising (PPC), search engine optimization (SEO), local & mobile search marketing, technical SEO, social media marketing, analytics, real-time search and more.
The experience can also be customized based on where attendees work and their profession. There are sessions designed for people new to search marketing or with years of experience, employed at a Fortune 500 company or who run their own business, work in-house or at an agency, or as a marketer, manager or technical professional.
SMX East will be held October 5-7 in New York City. The current registration rate for an All Access 3-day pass is just $1245. Register online at http://searchmarketingexpo.com/east/2009/register or by phone at (877) 242-5242.
About Search Marketing Expo - SMX East and Third Door Media
SMX East features sessions just for you, whether you are just starting out in search or looking for advanced level tactics, work on an in-house SEM team, hail from an agency or own your own business.
SMX East is programmed by search authorities Danny Sullivan and Chris Sherman, the editors of SearchEngineLand.com, the leading news blog for internet and search engine marketers. SMX East will feature three jam-packed days with over 50 sessions of cutting edge content on search engine optimization (SEO), paid search advertising (PPC), social media marketing, local and mobile search marketing and search-friendly design and development. The program also features the SMX Boot Camp, a series of sessions designed to get beginners up to speed.
The Search Marketing Expo - SMX conference series is produced by Third Door Media, Inc. Third Door Media's mission is to empower internet and search marketing professionals by providing trusted content and community services they need to be successful. Search Marketing Expo conferences are held around the world and include: SMX West (Santa Clara, CA), SMX East (New York City) SMX Advanced (Seattle, WA), SMX London, SMX Munich, SMX Sydney, SMX Singapore, SMX Madrid, SMX Sao Paolo, SMX Stockholm and SMX Mexico.
Third Door Media publishes Search Engine Land, the leading search marketing news and analysis site. The company also produces Search Marketing Now, a lead-generation marketing solution for suppliers of SEM-related products and services, and operates Sphinn.com, a social news site that allows search and internet marketers to share news stories, participate in subject-specific discussion forums, and build their professional networks.
Last Updated on Thursday, 25 March 2010 20:49
Written by Domainer's Magazine Staff
Saturday, 13 June 2009 14:30
LOS ANGELES – Domain Roundtable brings leading industry minds together for a series of informative sessions designed to examine the future of the domain industry and encourage attendees to investigate ways to participate in the policy making process.
The conference will take place at the Grand Hyatt D.C. in Washington, D.C.
Domain Roundtable begins on Sunday, June 14th with a welcome reception and comes to a close on Tuesday, June 16th after a live Aftermarket.com auction. A portion of the Aftermarket.com event will be dedicated to auctioning domains for ICA. These special auction items were graciously donated by generous domainers. View the complete list of domain names here.
Jonathan Zuck will keynote this four day event that offers sessions that cross a wide-range of pertinent topics. Sessions will deal with market and technology trends to domain valuation to policy directly affecting the domain industry. Each attendee is sure to broaden their understanding as they have the opportunity to delve deeper into specific issues at one of the many small table discussions.
"Domain Roundtable is a must attend event for anyone serious about the domain name industry," said David Castello, session speaker and COO of the Castello Cities Internet Network, Inc. (CCIN.com).
The conference will even offer an opportunity for attendees to mix-and-mingle with congressional representatives at a cocktail reception.
Domain Roundtable is widely regarded as the place to go for up-to-date information on the ever-changing domain landscape and stellar networking.
To learn more about the event and register to attend, please visit www.domainroundtable.com.
About Domain Roundtable
Domain Roundtable is an annual conference focused on domain names and new products, technologies and companies in the domain marketplace. The conference brings together serious players in the domain industry, allowing new and veteran domainers the opportunity to converse with like-minded peers and create an awareness of current industry trends from the people who are setting them. The Domain Roundtable Conference is a division of Thought Convergence, Inc.
About Aftermarket.com
Aftermarket.com ™ is a simultaneous online and in-person auction house. Founded in 2008, Aftermarket.com ™ seeks to create an exciting auction event by offering high-quality, competitively-priced domains both live and online on a robust platform. Aftermarket.com™ is a division of Thought Convergence, Inc.™, an industry-leading service provider of Internet domain name services and technologies. For more information, please visit www.Aftermarket.com.
Contact
Thought Convergence
Carron Allen, 310-909-7900
This e-mail address is being protected from spambots. You need JavaScript enabled to view it
Last Updated on Thursday, 25 March 2010 20:51
<< Start < Prev 1 2 3 4 5 6 7 8

9

Next

>

End

>>


Page 9 of 9